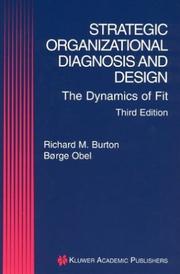 R. M. Burton and B. Obel, Strategic organizational diagnosis and design: the dynamics of fit, 3 ed., Netherlands: Springer, 2004.
Abstract
Strategic organizational design begins with the existing organization and its situation to diagnose and assess what should be done to have a more efficient and effective organization.
The theoretical model is a dynamic multiple contingency theory of organization which provides the basic knowledge for OrgCon.
OrgCon 8 (CD attached) together with the book provide a managerial toolkit for the business person who wants to make his or her organization better and also for the student who wants a working knowledge of organizational design. For both, OrgCon guides you through cases or your own organization to analyze the company; it contains comments and help which tell you why and directs you to in-depth discussion on the concepts applied.
Building intuition about theory through application is the approach.
The book itself is also a stand alone text which develops the theory of multiple contingency organizational design in a systematic way.
It is tied closely to the literature and the interested reader is guided through the vast literature on organization design.
The theory covers the contingencies size, environment, and strategy, as well as management style and organizational climate.
These contingencies are mapped into design parameters such as specialization, decision authority, information processing, co-ordination and control, and incentives.
The book and OrgCon have a number of special features: an information processing design framework and interpretation of contingency theory; a framework for a normative theory of organizational design; a multiple contingency theory of organizational design; a diagnosis of your organizational situation and a design recommendation for change; and capsules with discussions on new forms, hypercompetition, the 7C's and other notions.
A number of case studies are discussed and analyzed in the book and with OrgCon: SAS – the Scandinavian Airline System from its beginning to date; Oticon – the spaghetti organization; Medtronic as developed solely from publicly available information; and shorter cases on product and service organizations.
These cases can also be downloaded from our Student and Teachers Areas of this website.
Read more at Springer Publishers
OrgCon
It is possible to download the version of OrgCon 8 that comes with the book here. Please notice that you must be a user of this website in order to access the download.
BibTeX
@book {6982ee419d48457994b70541fa72f2fe,
edition = {3},
address = {Netherlands},
publisher = {Springer},
series = {Information and Organization Design Series},
isbn = {1402076843},
language = {English},
year = {2004},
title = {Strategic Organizational Diagnosis and Design: The Dynamics of Fit},
organization = {Springer},
abstract = {

Strategic organizational design begins with the existing organization and its situation to diagnose and assess what should be done to have a more efficient and effective organization.

 

The theoretical model is a dynamic multiple contingency theory of organization which provides the basic knowledge for OrgCon.

 

OrgCon 8 (CD attached) together with the book provide a managerial toolkit for the business person who wants to make his or her organization better and also for the student who wants a working knowledge of organizational design. For both, OrgCon guides you through cases or your own organization to analyze the company; it contains comments and help which tell you why and directs you to in-depth discussion on the concepts applied.

 

Building intuition about theory through application is the approach.

 

The book itself is also a stand alone text which develops the theory of multiple contingency organizational design in a systematic way.

 

It is tied closely to the literature and the interested reader is guided through the vast literature on organization design.

 

The theory covers the contingencies size, environment, and strategy, as well as management style and organizational climate.

 

These contingencies are mapped into design parameters such as specialization, decision authority, information processing, co-ordination and control, and incentives.

 

The book and OrgCon have a number of special features: an information processing design framework and interpretation of contingency theory; a framework for a normative theory of organizational design; a multiple contingency theory of organizational design; a diagnosis of your organizational situation and a design recommendation for change; and capsules with discussions on new forms, hypercompetition, the 7C's and other notions.

 

A number of case studies are discussed and analyzed in the book and with OrgCon: SAS - the Scandinavian Airline System from its beginning to date; Oticon - the spaghetti organization; Medtronic as developed solely from publicly available information; and shorter cases on product and service organizations.
 These cases can also be downloaded from our Student and Teachers Areas of this website.

 

Read more at Springer Publishers

 

OrgCon

 

It is possible to download the version of OrgCon 8 that comes with the book here. Please notice that you must be a user of this website in order to access the download.

},
updated = {2014-07-01T12:43:39.000+0200},
asin = {1402076843},
biburl = {https://zeal.dk/publications/strategic-organizational-diagnosis-and-design-the-dynamics-of-fit-3/},
biburl_fo = {https://zeal.fo/utgavur/strategic-organizational-diagnosis-and-design-the-dynamics-of-fit-3/},
urltitle = {strategic-organizational-diagnosis-and-design-the-dynamics-of-fit-3},
author = {Burton, Richard M and Obel, Børge}
}